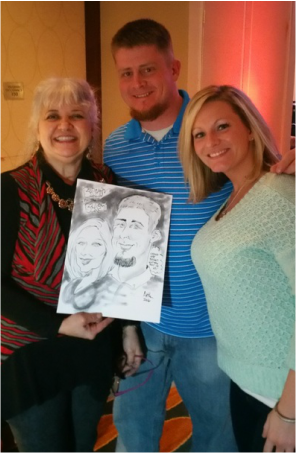 Review received on 4-4-2017 at 11:27 am (PDT)
Event: Traumbauersville Annual Community Day Celebration
Anthe is one of the most popular attractions at our annual community day and attendees head right for her spot as soon as they arrive. She has been with us for all 18 years of our annual celebration and it is fun to see the same people get their caricature done year after year as they grow up. Anthe is very personable and friendly and adored by our community. She tries to accommodate every one in the time allotted.
Reviewer: Edward Child
Event Date: June 4th, 2016
Services Provided: Caricaturist
---
The PERFECT present FOR ANY OCCASION!
ARtworks By Anthe; whether a birthday, bar/baz Mitzvah, engagement, retirement, family gathering thEsE drawings are the perfect party favor or gift.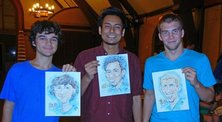 Why not give a party favor that gives years of joy? Caricatures of your guests will do just that. Anthe provides kind caricatures with fun for everyone utilizing her classically trained artistry to entertain your guests.


WHAT TO KNOW ABOUT CARICATURES for GIFTS, ILLUSTRATIONS and or PARTIES.
The best way to know who you are booking is to see his or her work first hand. The caricature work they draw at a party, may be different than the work they display. This is why Anthe's business is mostly repeat business or from guests where they have seen her work first hand. Anthe achieves the most amazing, accurate likenesses in her caricature work. Clients love her work and are in awe of her ability. Call Anthe to check and see if she is available for your event.
Speed
Anthe's clients along with their guests find her speed remarkable. Call her for an estimate for your event at (215)233-3916. No caricaturist can quote you exactly how many they can draw per hour, because it depends on many factors. It can depend on the party itself, the tempo as well as how assessable and where you place her. How quickly the guests sit down along with their ages. If the guests are wearing name tags or not, also is a determination because as there is less conversation for placing names on their drawing if they have tags. The size of the drawings and whether they are in color or black and white also determine speed. How many details the guests ask for in the drawing if bodies are drawn with backgrounds. All of these factors and more can slow down or speed up drawing time.
Tips for Speed and Timing
1. Name tags, especially for children (it reduces time to spell their name), or in a noisy environment this really helps to move things along.
2. To get larger amounts of guests drawn per hour, consider faces only in black and white.
Since Anthe is good at achieving a great likeness, this is a workable solution.
3. Starting the caricaturist to draw at the beginning of most types of events is a wise idea. It is wonderful as the guests arrive, since it is one-on-one anyway. That way the caricaturist will be more likely to finish before there are other distractions. Where the caricaturist may need to stop, for instance, for the cake, presents, awards, candle lighting , speeches, other entertainment, etc. The customer is utilizing the caricaturist's time more wisely, when he starts the caricaturist at the beginning of his event.
Arrival
Generally the caricaturist likes to be set up to draw at least15- 30 minutes in advance of the actual drawing time.
Parking
If parking is an issue in your area, please let your caricaturist know in advance. A parking spot is necessary. Could a spot be reserved in advance? Are there any parking fees?
Pre-Printed Paper
Anthe can pre-print paper in advance with your name, business name and/or sentiments in advance. There is an extra charge and must be pre-arranged.
Set-up
If the caricaturist is located indoors, an electrical outlet is required for the artist's lights along with two armless chairs. If outdoors, she requires solid shade in daylight or an electrical outlet for lights during the darker hours. Anthe brings all of her own equipment including easel, lights, pens, paper and clear plastic bags to give your guests making this the perfect party favor.
Personality
You will be the best judge of this. It is good to talk with your caricaturist on the phone, rather than through e-mail only. Does your caricaturist seem patient? Right for your event? Respectful? Do they dress appropriately? About Anthe, she is patient, loves children and people alike, is respectful, reliable, well dressed, has reliable transportation. Her drawings are flattering liknesses.
Children & Babies
It requires a special skill to draw children and babies. Anthe has this skill and lots of experience at children's parties as well as the several years she worked at Sesame Place Amusement Park.
Proms, Graduations, and Family Reunions
Anthe is especially popular at proms, graduations, and family reunions. Try to book as early as possible for these events because the schedule fills up quickly. There are however, sometimes when she doesn't get booked til the last minute.
Multiple Artists
Anthe has a team of other wonderfully talented and professional caricaturists that she works with throughout the Philadelphia area, and therefore is able to provide multiple artists if needed to accommodate your event. If more than one artist is needed the fees will be assessed per artist needed.

More samples of her work can be seen by clicking the links on this page.

---